Quando pensamos que já vimos tudo o que é Fabber...
Aparece ISTO:
Uma Fiadeira Eléctrica!
E um projecto de sucesso, 10 vezes mais de patrocínio no Kickstarter, cortesia da Ponoko. Um Marido Engenhocas, e uma Mulher feliz.
Bestial.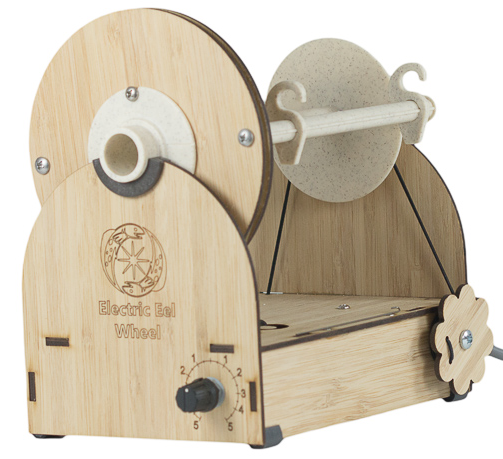 Maker Reinvents Electric Spinning Wheel & Rolls Over Kickstarter Goals By 979%, Then 1,744%
Lisa Horn

If you think knitting and crocheting are only for grandmas or that macramé and woven wall hangings were just a fad in the 1970s, think again. Thanks in part to festival fashion, yarn arts are alive and well…and growing.
In fact, 38 million people knit or crochet according to the Craft Yarn Council—including celebs such as Cameron Diaz, Daryl Hannah, Julianna Margulies, Sarah Jessica Parker, Julia Roberts, Hilary Swank and Vanna White. And the Association For Creative Industries says that the U.S. creative products industries are valued at $43 billion.
There are more craft-related blogs, websites and tutorials than ever before. YouTube has 12,000 woven hall hanging videos, 400,000 macrame how-tos, 2.6 million knitting tutorials and 3.6 million crochet trainings. You could spend days on Instagram getting inspired by #bohemianstyle, #yarnlove and #makersgonnamake. Pinterest is filled with DIY yarn craft ideas. Craftsy offers lessons in 18 types of creative arts.
While these kinds of artistic expression provide a creative outlet, reduce stress, improve mood and build confidence, many makers are finding there is a business opportunity as well. On Etsy, there are 13,000 listings for woven wall hangings, 228,000+ macramé items, nearly 700,000 knitted products and 1.18 million crocheted designs.
That's a lot of yarn.

https://www.ponoko.com/blog/maker-success-stories/electric-spinning-wheel-kickstarter-success/
Querem ter um Atomóvel Eléctrico, mais assim, para o barato?
Eis uma boa ideia, arranjam o motor duma Empihladora, um Automóvel, com ou sem motor, e já está!
Com um pouco de Know-How e trabalho, ficam com a vossa carripana Eléctrica, mas esta, com toda a comodidade dum Automóvel a sério:
Build Your Own Electric Car!
bennelson

(AUTHORS NOTE, July 9, 2017)
Hi Everyone, there' been a lot of views on this project lately! Thanks for coming by to read through it! Much has changed since I originally built this car, including the fact that there are a LOT of great commercially built electric cars available for sale, including used at good prices. When I built this car, pretty much the only electric car available was the $100,000 Tesla Roadster. Now, I'm driving a used Mitsubishi iMiEV electric car and power it with my Solar Garage! Please take a look at my other Instructables and at 300MPG.org for the latest on my clean transportation adventures!)
The "Electro-Metro" Project.
Can't afford a Nissan Leaf? No Problem!
Build a cheap electric car yourself by removing the the car engine, replacing it with a forklift motor, and adding batteries.

https://www.instructables.com/id/Build-your-own-Electric-Car
Eis algo para os Joalheiros, Dentisas, e Inventores e Engenhocas abonados, (ou Clubes deles), uma Impressora 3D, que imprime com uma qualidade incrivel, ou não fosse uma SLA, obra dum Ex-Piloto de Caças, e Inventor com várias Patentes obtidas, que cobrem esta bela Máquina:
B9Creator SLA 3D Printer




The B9 Creator has rapidly become the preferred desktop 3D printing machine of jewelers, dental laboratories and prototypers alike. The B9 uses stereolithography to convert liquid resin into solid objects of unbelievable definition and clarity. The B9 is the brainchild of ex-US Airforce pilot Michael Joyce. With a degree in mathematics and a passion for technology, Joyce developed multiple patented inventions which provided the basis for the very first B9 Creator.



Brilhem, e aumentem as vendas, com estas placas de MDF com Padrões Barrocos, que fazem uma grande diferença no aspecto dos vossos projector cortados em Laser CNC.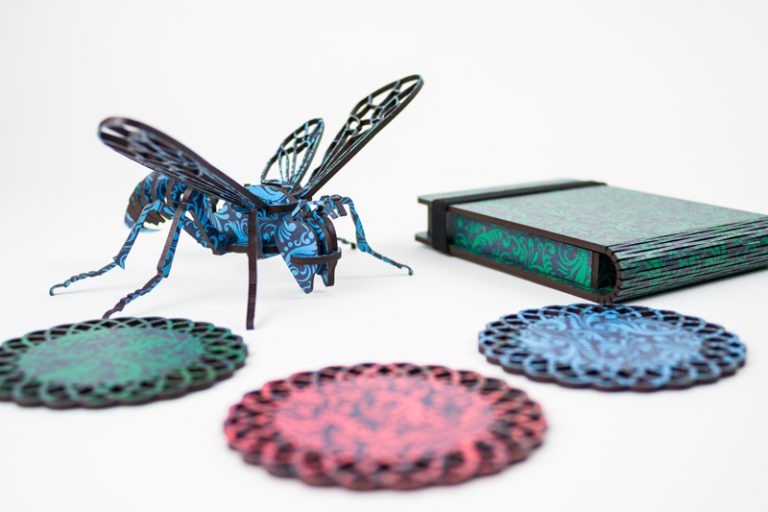 Introducing Ponoko Originals – Printed Materials For Laser Cutting

Lisa Horn




5 Reasons You'll Love Baroque Printed MDF


For the first time, we're offering laser cut materials with full-color digital art printed both sides of the sheet. Whaaaat?
You read that right.
We've created baroque printed MDF in three colors—blue, red and green—available in both the USA Catalog and NZ Catalog. And to kick-off the big event, we're even offering $50 Making Coupons (see details below).
And The 5 Reasons Are …
Creating materials that are Ponoko Originals has been super-duper exciting. Of course we love them, or else we wouldn't offer them to you! But here are five reasons why you should love the new baroque printed MDF sheets:

Your products will stand out with these one-of-a-kind materials that bring full-color art printed to both sides of the material sheet. Your friends, family and customers will love it!
You can make products look amazing without heaps of laborious finishing because the pattern is all done for you in the digital print.
With a consistent 3mm thickness, this printed MDF is ideal for designing 3D products.
If you're selling your designs, you should be able to drive up the demand because your products can now be more unique, fun and visually vibrant than ever before.
Because of the higher perceived value, vibrant full-color materials should gain superior profits from the new things you make.
Um combustível, a partir de àgua, com recurso à Electrólise, é o que fazem, se seguirem este Instructable.
Mas atenção, que isto não é para meninos, é uma mistura muito explosiva!
Mas também o é, a Gasolina, misturada com ar...
Já vi Automóveis a andar com esta mistura, na Net.
How to Convert Water Into Fuel by Building a DIY Oxyhydrogen Generator

The King of Random




Here's how to build a sexy looking generator that uses electricity to convert water into an extremely powerful fuel! In this project, you'll learn how to build an OxyHydrogen generator from scratch.