Mais uma Impressora 3D!
Esta, em kit, custa-vos à volta de 500 Libras, e permitir-vos-há expandir o Kite de uma Cabeça de Impressão, para 3:
New RS Ormerod Full 3D Printer Kit

The RepRapPro Ormerod is one of the most versatile 3D printers available. Its primary design goal is to offer a printer which is easy to expand in functionality, fast to replicate, and fast to assemble and commission. This new model builds on the already established RepRapPro product portfolio which has undergone brisk development and heavy testing since inception in 2004.
...
The RepRapPro Ormerod is a monochrome 3D printer configured to work with one type of plastic at a time. However, the RepRapPro Ormerod head is fundamentally designed to work with three deposition heads and an upgrade kit will be available soon for this machine.

Full open-source self-replicating RepRap
New 32-bit Arduino-compatible Duet electronics enable control via a web-browser
Wiring loom for simple plug-in connection – no soldering
IR probing for self-aligned printing – no bed adjustment required
Build volume: 200x200x200mm
Overall size: 500x460x410mm
Printing materials: ABS, PLA, 1.75mm diameter thermoplastic.
Build surface: PCB-heated bed to reduce complexity of assembly and to ensure parts do not warp.
Computer interface: USB
X-carriage: Three Z-adjustable deposition head mounts; one head supplied
Motion: Linear ball bearings on X and Y axes, Igus low friction bushings on Z axis.
Pre-soldered electronics with built-in microSD card slot for standalone printing.
Enhancements to the printed parts to improve the ease of assembly of the X and Y axes
Se querem é comprar uma, já feita, os nuestros hermanos, também as fazem, mais caras, é claro, mas com uma data de coisas boas, como uma cabeça dupla:
Especificaciones WITBOXprinter

Las nuevas impresoras de escritorio WitBox, están dotadas de las ultimas tecnologías electromecánicas del mercado, consulta todas sus prestaciones.

Main Features:

Special Dual Extruder
SD-Controller with LCD Display
Heated 3-Point-Printbed (200mm x 200mm)
Layerhight, adjustable: from 0,1mm up to 0,3mm
Teflon-coated Fibonacci Filament Guiding System
Smooth 3D printing with: PLA, ABS, NYLON, PVA, LAYWOOD, LAYBRICK (1.75mm)
Rigid Metall-Housing with chrome coating
Special printspace-door for safety
Own Software: WitSoft (under development)
Also compatible with Repetier Host, Pronterface, Cura, ReplicatorG, Slic3r
CE safety certified



Dos nossos amigos da Pololu, eis um Servo-Motor para grandes Projectos...
E se seguirem um link, abaixo, ainda há maior!!!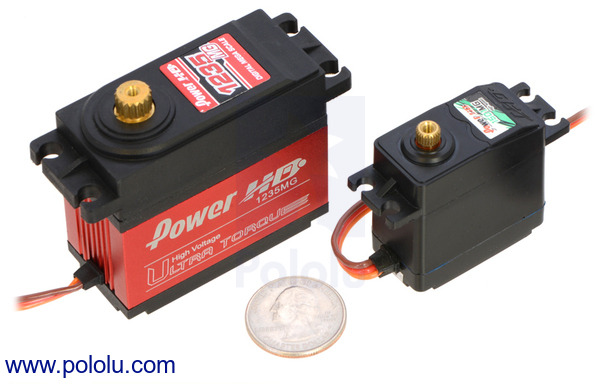 Power HD Ultra-High-Torque, High-Voltage Digital Giant Servo HD-1235MG

Overview

The HD-1235MG is a giant-scale (also called 1/4-scale) digital servo from Power HD can deliver nearly twice the torque of our

strongest standard-size servo

, offering up to 560 oz-in at 7.4V or 490 oz-in at 6 V (if you need even more torque than this, check out the much larger

Torxis monster servos

). The picture on the right shows how the giant-size 1235MG compares to our popular

1501MG standard-size servo

.

The entire gear train is metal, and the output shaft is supported by two ball bearings for improved performance. Unlike typical hobby servos, the 1235MG has an operating voltage range of 6 V to 7.4 V. This servo works with standard RC servo pulses at frequencies up to 333 Hz. The 12″ (300 mm) lead is terminated with a standard "JR"-style connector, which is Futaba-compatible.



E porque podem um dia criar uma Empresa, ou ganhar o Totoloto, eis uma Impressora 3D em grande, que mistura Materiais, e Materiais de primeira, para criarem um Objecto com as características que queiram!!!
Multi-material composite materials 3D printer Large, high-quality multi-material parts in a single build.

3D Systems' ProJet® 5500X delivers the highest quality, most accurate and toughest multi-material composites based on 3D Systems' latest

MultiJet Printing (MJP)

technology. The ProJet 5500X simultaneously prints and fuses together flexible and rigid material composites layer by layer at the pixel level in a variety of colors and shades including opaque, clear, black or white and numerous shades of gray. 3D Systems' printed multi-material composites result in stunningly realistic, functional, large and small prototypes and products for a wide range of manufacturers, designers and engineers.

http://www.3dsystems.com/3d-printers/professional/projet-5500x#.UqBkNdeye4B
Isto é só para homens de barba rija... E um pouco loucos! Muaáháhá!
Claro que também servem para tirarem dúvidas duma vez por todas, quanto a Ímanes MESMO Fortes, nos vossos Protótipos ou Engenhocas em geral...
De qualquer das maneiras, TENHAM MUITO CUIDADO, isto pode-vos trilhar os dedos, ou pior...
Macho set

Case with 40 super magnets

In order to entice Mr. Macho Man to read the warning label, we printed it on glossy paper and added many visuals - just like he is used to from his favorite "magazines."

The brochure is translated into 6 languages and uses direct and straight-up wording - from one man to another. It's easy to comprehend, even for someone who normally ignores warning labels as a matter of principle.


http://www.supermagnete.de/eng/Z-10?lid=n37_2604_1&vc=244SRRPVE&img=4